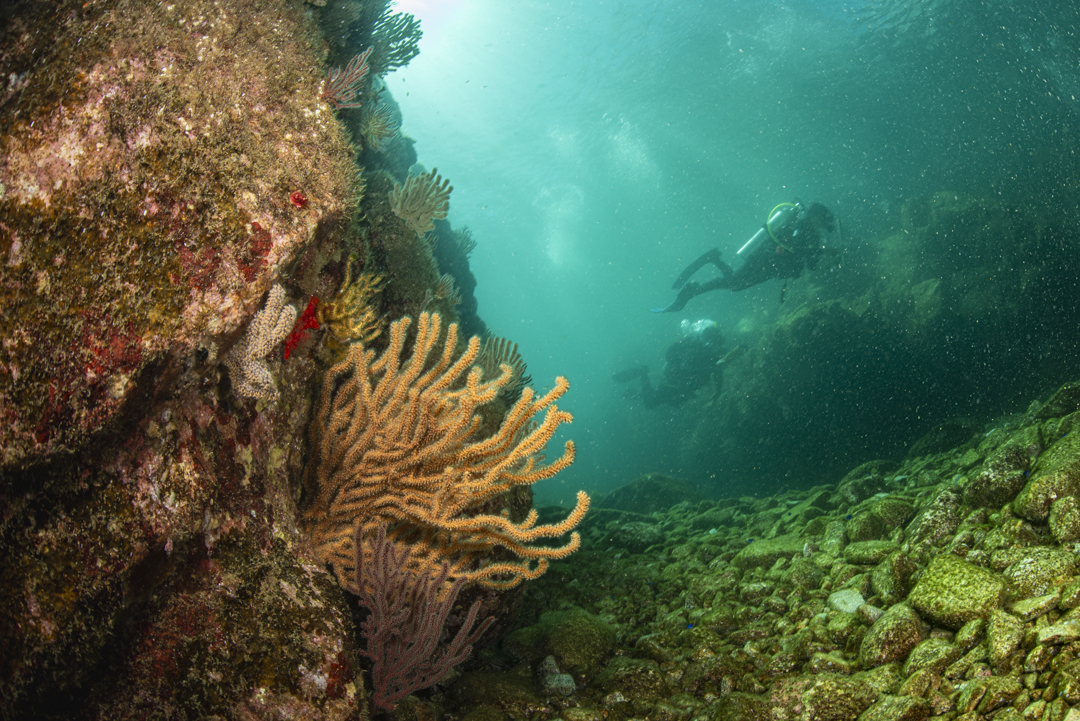 The Gulf of California's longest-standing rocky reef monitoring program is commemorating its 25th anniversary of continuous scientific research. To celebrate this significant milestone, a team of 18 researchers embarked last September 16th in La Paz, Baja California Sur for a 30 day expedition.
On a 30-day expedition across the Gulf, surveying over 120 sites to evaluate the health of marine and coastal ecosystems. Dr. Octavio Aburto, a faculty member at the Scripps Institution of Oceanography (SIO) at UC San Diego and the expedition's principal investigator, initiated this research endeavor in 1998, inspired by Dr. Norman Myers' seminal work on biodiversity hotspots.
Dr. Aburto recalls, "The program originated with a modest team of four scientists, a van, and a small inflatable zodiac. We traversed the coast of the Baja California Peninsula, visiting locations recommended by local fishers and experts for their rich biodiversity." Over the past quarter-century, the program has monitored more than 600 rocky reefs in the Gulf of California, cataloged over three million individual organisms representing nearly 800 species, and amassed a database comprising over half a million records.
This extensive dataset has enabled marine ecologists and conservation scientists to enhance our understanding of the ecological and oceanographic processes influencing the Gulf's productivity. Initially, Dr. Aburto collaborated with colleagues at SIO and the Universidad Autónoma de Baja California Sur (UABCS) to develop a model for identifying conservation priority areas. This effort culminated in a proposal for a network of marine reserves extending from the midriff islands in the Northern Gulf to Cerralvo Island and Cabo Pulmo in the South.
While not all proposed areas received protection, several did, and ongoing monitoring continues to assess their ecological health. Dr. Aburto notes, "This program has allowed us to document a remarkable recovery in Cabo Pulmo National Park, where fish biomass increased by 463% within a decade." However, this success remains an outlier, as other protected areas have not fared as well. Dr. Fabio Favoretto, a postdoctoral researcher in Dr. Aburto's lab, recently published an analysis on climate-induced changes in reef communities. He notes that data reveal a trend of 'tropicalization' in the southern Gulf's reef ecosystems, indicating shifts in their ecological structure and function. This research also quantified a 1°C temperature increase over the past decade (2010–2020) and reported a threefold increase in the frequency of extreme marine heatwaves. These environmental shifts have led to a homogenization of conditions and a reconfiguration of rocky reef communities, with fish biomass declining by 43% and invertebrate abundance decreasing by 35%. The long-term implications of these changes for the tropicalization of rocky reef communities remain uncertain, underscoring the need for continued research and effective mitigation strategies.
Over the years, the Ecological Monitoring Program has evolved into a collaborative initiative, uniting a diverse cadre of scientists from academic and research institutions in both the United States and Mexico. While the monitoring of fish and invertebrates has remained consistent in methodology, the research team has progressively integrated advanced technology, novel methodologies, and expanded research themes to offer a more comprehensive ecological perspective.
Catalina López-Sagástegui, Director of the Gulf of California Marine Program (GCMP) at the Institute of the Americas, which has backed the program since 2008, elaborates, "Rocky reefs do not exist in isolation. As new tools, techniques, and insights become available, it's imperative for research programs to adapt. In addition to fish and invertebrates, our scope now encompasses oceanography, marine mammals, sharks, plankton, algae, and blue carbon ecosystems."
During its 25-year tenure, the program has enabled scientists to monitor environmental shifts and assess the holistic ecosystem health of this biodiverse region. Dr. Aburto and his team have scrutinized the efficacy of marine protected areas in safeguarding marine biodiversity. While there are success stories like that of Cabo Pulmo, the data reveal a concerning trend of deteriorating rocky reef health. Dr. Fabio Favoretto adds, "We are witnessing a decline in marine biodiversity; certain areas are becoming less productive, and the full extent of climate change's impact on the Gulf of California's marine ecosystems remains to be ascertained."
The program's benefits extend beyond the realm of academic research. The data generated have informed conservation and management strategies and have alerted stakeholders to large-scale environmental changes that could potentially affect tourism and fisheries. Furthermore, the program serves as a valuable training ground for students and early-career scientists, fostering opportunities for new multidisciplinary collaborations.
"The GCMP has been a steadfast supporter of the rocky reef monitoring program, not merely for its scientific contributions but also as a conduit for fostering binational and multidisciplinary collaborations. We are committed to the principles of transparency and open access in disseminating knowledge," states Catalina López-Sagástegui, Director of the GCMP. To solidify this commitment, the GCMP instituted an open-access policy, enabling researchers constrained by funding or geography to utilize the data.
López-Sagástegui elaborates, "Our platform, dataMares, offers 25 years of accumulated data, accessible to anyone interested in advancing research beyond our immediate scope. The only requirement is proper attribution to the researchers who have diligently collected the data."
The Gulf of California's rocky reefs serve as a habitat for a diverse range of species, underpinning both fisheries and a burgeoning tourism industry. The health of these ecosystems is intrinsically tied to local and regional economies, sustaining thousands of families. As we brace for a future marked by the uncertainties of climate change, the imperative for long-term research programs like the rocky reef monitoring initiative becomes increasingly evident.
Commemorating 25 years of continuous monitoring is a significant achievement, made possible through the collaborative efforts of the Scripps Institution of Oceanography, the GCMP at the Institute of the Americas, and the Centro para la Biodiversidad Marina y la Conservación A.C., and with the collaboration of 14 academic and research institutions, over 30 scientists, at least 200 students, 11 conservation organizations, more than 12 photographers and videographers, six graphic and web designers, over 17 members of the private sector and many others, both on land and at the sea, who have participated and provided support throughout the years.
The 2023-2024 monitoring campaign will feature contributions from researchers at the UABCS and the Centro de Investigaciones Biológicas del Noroeste in La Paz, Baja California Sur, and a team of photographers and videographers will also be on board to document the expedition. This multidisciplinary approach will generate visual material and scientific data that will be shared through different channels. From data analysis and scientific papers, to science communication material for social media or video and photography for conservation and scientific documentaries. The variety of outputs the monitoring program yields will support ongoing efforts to promote conservation and an open-access culture in the sciences. By highlighting the work this binational team of experts is doing in the Gulf of California's rocky reefs, the goal is to bring attention to the importance of exploration and science to increase our knowledge on marine ecosystem health and awareness on the need for conservation and management initiatives that help build a sustainable and resilient future for the region.